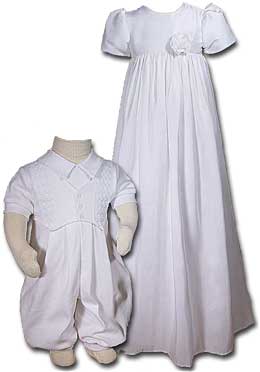 We are proud to offer high quality and beautiful styles. Whether you are having a Christening, Baptism, Bris, Naming, Baby Blessing, a dress for your girl's First Communion or a suit for your boy's First Communion we have traditional and fashionable designs that will become heirlooms for generations to come. Included in this line are all the accessory pieces imaginable.
Fast Delivery, Quality Products and Excellent Customer Service are our priorities. Our 300+ products are in stock and ready to ship. Most orders are processed and shipped within one business day. No matter what the occasion, we are sure that you will be able to find the perfect outfit or accessory for each of your baby´s extra special days.
With our large selection of Christening Gowns, Christening Outfits, Infant Specialty Apparel, One of a Kind, and more. You are bound to find something that you love.
Before placing an order through our web site, it is important that you be fully aware of our return policies.
Thank you for shopping with us.
Best Price Guaranteed!
We beat or match the best price on any in-stock outfit order.